Welcome to my page!

I am a licensed marriage and family therapy (LMFT), a certified Discernment Counselor, and certified medical family therapist (MedFT). I specialize in individual and couple therapy -- both general and medically-related, Discernment Counseling for couples on the brink of divorce, and relationship coaching. I maintain a private practice in Seattle, WA affiliated with the internationally renowned Chicago Center for Family Health.
I came to this field after watching myself and people I love struggle to overcome problems in isolation, or with professionals who did not have the specialized training that was needed to successfully treat families, couples, or individuals and their families who live with trauma, relationship challenges, or chronic illness. I have over 15 years experience as a psychotherapist and have closely trained with some of the masters of my field in the areas of couples and families, collaborative medicine, premarital counseling, and the treatment of trauma. Over this period, I have worked with people of a variety of cultures (including African-American, Latinx, East and South Asian, Pacific Islander, African, and Middle Eastern), and I have experience working with LBGT individuals and couples. I am trained to treat many different problems, but I have special expertise in depression, anxiety, trauma, and relational problems. I have also worked with individuals and families with a variety of illnesses, including chronic pain, diabetes, cancer, pulmonary diseases, cardiovascular diseases, genetic disorders, HIV/AIDS, Hepatitis C, and neurological issues.

I am also one of the few practitioners in Washington who is trained and certified in Discernment Counseling, a new approach for couples on the brink of divorce. Discernment Counseling gives an a specially designed alternative to traditional marriage therapy for a couple where one or both are considering permanently ending the relationship. At a time when a couple might be considering breaking up, it helps them to gain clarity and confidence in the relationship path while understanding in greater depth how they got to this point. (For more information, please see my page Discernment Counseling: For Couples on the Brink. )

Real Quotes from Former Clients

"Mary Kelleher provided a safe environment in which I could explore issues that have plagued me for years. The coping tools, the tools to allow self-forgiveness and self- love have been instrumental in my journey to a healthier outlook on life, relationships, and most importantly self." (Glynnis)




"Mary Kelleher is a magnificent family therapist. She managed to make each member of my blended family feel safe, valued, and important. With her help we were able to establish a foundation for communication and respect of each other. I trusted her with that which is most valuable to me, my family, and she did not let me or us down." (Lourdes)

Mary is a great example of balance. She is warm and calming, just her persona infuses the session with positive energy. On the other hand she is insightful and clinical, she is able to listen and give deep observations. These insights often are "aha" moments once stated seem obvious. (Frank)


"Mary is able to bring a variety of evidence based treatment options to the table and see what is best for you. My wife and I were given a set of tools to repair and maintain our relationship. Our experience with Mary has been invaluable. We miss her dearly since she moved to Seattle." (Mike & Alicia)




"I went fifteen years thinking I could work through past trauma on my own. I sought out Mary when my marriage failed, in large part because of my inability to trust. With her guidance I worked through the pain of my past and learned healthy ways to manage stress and react positively when negative memories bubble up. My husband and I reconciled and our marriage is stronger than it ever was, as a direct result of my therapy sessions with her. I am thankful every single day that I found her." (Leann)

What's Therapy Like with Me?


My style of therapy combines best therapy practices, the latest research in how the brain, body and emotions work together, careful and empathic listening, skills training, collaboration with your other healthcare professionals (if appropriate), identifying and accessing your internal and external resources, and using your deepest wisdom about your life and your problems. I tailor my sessions specifically to you and your needs . If your spiritual beliefs are important to you (as they are to most of us), I encourage you to bring them into our work together.
We are primarily social beings. I believe that we can be hurt in relationship with others, but we can also be healed in relationship with others. If I am working with an individual, I may invite them to bring a family member, loved one, or close friend with them to therapy; the more support and understanding you have around you, the faster you can heal. If I am working with a couple or a family, I do not take sides : I consider the relationship my real client. I do my best to treat everyone with respect and compassion, no matter what their problems may be.

My Ice Cream Speech

Therapists are like ice cream flavors. I may be a perfectly wonderful basil raspberry (yes, that is a real flavor, and I love it), but you might be a double chocolate kind of person. It happens. If things don't "click" after a few sessions, please let me know. If we can't fix it, I'll find a couple of possible double chocolate therapist referrals for you. And I promise that it won't hurt my feelings.

Teaching
In addition to my psychotherapy practice, I have taught graduate psychology, marriage and family therapy, medical family therapy, and counseling students at the University of Minnesota, Northwestern University, Seattle Pacific University, St. Mary's University, Antioch University, the Adler School of Professional Psychology, and through the Chicago Center for Family Health. I have also taught Family Medicine physicians at the University of Washington, the University of Minnesota, the University of Chicago, and Illinois Masonic Medical Center. My special joy was teaching undergraduates in a course entitled Intimate Relationships at the University of Minnesota, and I hope to teach that course again whenever I have the opportunity.
Presentations

I have presented at national medical and psychotherapy conferences annually since 2004 on such subjects as collaborative healthcare treatment of depression & diabetes, families & chronic kidney disease, the challenges of working with refugee populations, and the special issues of individuals & families with chronic pain. I have also presented to general audiences on couple communication, relationship skill building, and managing conflict.
Education

PhD in Couple and Family Therapy, University of Minnesota (2016)
MS in Marriage & Family Therapy, Seattle Pacific University (2004)
Certificate in Medical Family Therapy, Seattle Pacific University (2004)
Professional Activities and Memberships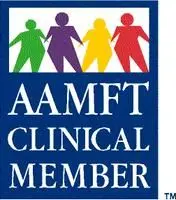 American Association of Marriage & Family Therapy
Member since 2001


Chicago Center for Family Health
Faculty Member 2012-2015, Affiliate since 2015